Ski Locator a Revolutionary New Device
It has happened to most off-piste skiers when having a great day in the backcountry far from the bustle of the slopes, suddenly they hit a patch of compacted snow or an unexpected obstacle and they wind up face first in the snow with their skis buried who-knows-where. Then you have to hold up the group rummaging around after your skis, or after ski ribbon. If like me you are tired of searching for lost skis in deep powder, then RESQSKI Ski Locator has the answer.
Launched at the London Ski and Snowboard show in earls court, this revolutionary new device was an instant hit, managing to grab powdermania.com's coveted 'product of the year 2012-13', and has since become an essential for any serious powder skier. RESQSKI Ski Locator is designed to stem the fear that affects any off-piste skier – shelling out for a brand new set of skis. There is nothing like RESQSKI on the market, and although Ski Locator technology is revolutionary years of perfecting have gone into creating this essential gadget.
RESQSKI Ski Locator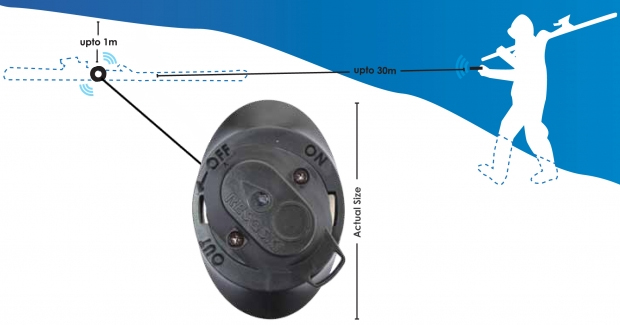 Rather than fiddling with unreliable ski ribbons or leashes, which are prone to coming off in heavy powder, RESQSKI uses hi-tech radio frequency technology to lead you to your skis quickly and easily. The full pack comes with two homing tags to attach to your skis and a hand held receiver, along with some dummy tags when storing your skis. About two inches long the homing tag fits onto your skis normally just in front or behind the binding with a powerful adhesive strip. When lost the homing tag sends out a powerful radio signal to the hand-held receiver which is about the size of a credit card. On receiving the signal the receiver uses flashing lights and beeps, similar to a metal detector, to help you find your lost skis up to 30m away and 1m deep in snow. Each homing tag signals a different number on the handheld so you can search for up to 4 skis individually.
The ski locator has been a long time coming and greatly anticipated by off-piste skiers everywhere. With more people now searching for the more secluded runs off-piste the demand for ski locators is going to be ever on the increase, and less experienced skiers take to the backcountry. In the last season alone I have known friends of varied experience levels taking the plunge into fresh powder only to come out without their skis and at least a good week holiday ruined. There are also the danger of avalanche with any off-piste trip, which can be exacerbated by losing one or both your skis. At only £88 pounds the RESQSKI ski locator can save you the price of a brand new pair of big mountain skis and definitely save your holiday and keep you skiing all through the season.