RESQSKI SKI LOCATOR
If you ski off-piste, you like taking risks.
After all if you wanted your skiing to be safe and steady, you'd follow those red runs down and thank the piste bashers who manicured the route to look like the top of a Christmas cake.
You have to put up with traffic worse than Piccadilly Circus but generally it's not risky.  Just – well, going with the flow.
Now whether you ski  powder for the technical challenge, exhilaration, freedom of freeride or just because it makes you feel brilliant – you have to accept that you are a risk-taker and that there are metaphorical crocodiles out there.
Now some of the risks are obvious and you do the smart thing and make sure you've got the avalanche beacons, probes and shovels.  You may have an airbag. Now I don't know about you but there is one thing that can stop you having the carefree fun that powder can bring; and it's a mental thing as much as physical.
It's the nagging feeling when you ask yourself 'What if I lose my ski?'.
Sure it's not usually catastrophic .  If you lose your ski  under the powder  most times you'll   find it within 20 minutes to half an hour.   OK it can take 4 of you digging , sweating and swearing but generally you'll eventually find it.   If you don't, when the snow melts at the end of the season no doubt some kind person will pick it up and take it down the mountain.
How about leashes or ribbons?
Ah-ha you say, what about leashes or ribbons.   Well they can work and they're cheap.  But tying a leash to your leg or stuffing a 2 metre ribbon in your boots is neither safe nor convenient.   In fact they're a proverbial pain in the rear end.    Most people that start off with these end up not bothering to put them on.  And it's always the day you've not put them on that you take the tumble.  What's even worse is that some of the macho guys just tighten their bindings – preferring a broken ankle to a lost ski.
So do you take the risk of ruining a great day's skiing?    What is the trade-off between being safe and putting up with the hassle of ribbons and leashes?   Even worse do I risk injury by tightening the bindings?
Every so often a breakthrough product comes along and this is it: it's called RESQSKI  and it means you  never again have to worry about losing your skis off-piste.  It is a unique solution borne out of my own painful experience of digging in the white stuff too many times.  It's simple to use and incredibly convenient.
No more strapping polyester round your legs or into your boots.  No more worry about that fall that can happen to the best of us.  In short ski with peace of mind knowing you'll always be able to find your prized planks.
So, how does RESQSKI work?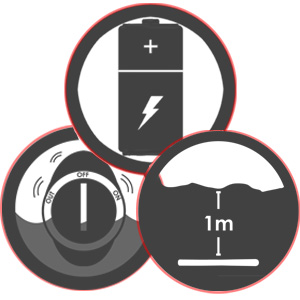 RESQSKI uses RF (radio frequency) – a proven technology that's been around for years .  By attaching homing tags to the skis, a handheld transceiver can quickly locate your skis using a combination of flashing lights (red/amber/green) and sonic beeps that take you straight (not approximately!) to your ski.  What's more it finds them from a distance of 30 meters away and up to 1 meter down.
So given that it's so simple how come nobody's done it up to now?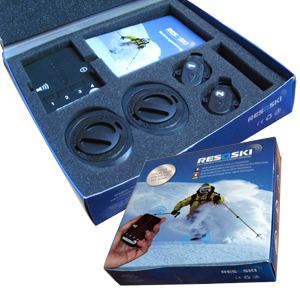 Well there's one very good reason for that.  It is very difficult to get a piece of electronics to stay attached to something as difficult as a ski.  Think about it – your ski is an amazing piece of technology in its own right.  It has to flex vertically and horizontally ; suffer big extremes of temperature change and endure some of the most hostile terrain you can think of.  You can liken it to trying to ride a shark bareback.   Well you get the idea!
What's more you need it to stay waterproof and be able to turn the power on and off so you don't have to change batteries more than once a season.
That's a tall order.  RESQSKI's patent-pending tag technology has been developed to take a punishing routine.  It's been tested from North America across Europe to Japan.
RESQSKI does not interfere with avalanche transceivers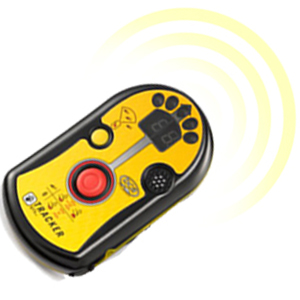 Still have doubts?  What if it interferes with avalanche transceivers?  Will the batteries last?  Firstly, is there any interference – answer no:   avalanche beacons operate on 457 kHzand are an open system where they all talk to each other for obvious safety reasons.  RESQSKI operates on 2.45 GHz and operates in a different way; each tag is digitally registered to the specific button on the handheld.  It will only work with that handheld and only when the handheld is turned on to operate.
Batteries will last all season
Next regarding the batteries; batteries can deteriorate rapidly in a very cold environment but generally when there is significant power output – for instance for video.   Our tags only emit a very small amount of energy – just enough to receive the signal from the handheld.  The handheld itself is permanently switched off except when you need to either test it or use it to find your lost ski.  Once it is switched on it uses up energy as does the tag it is communicating with.  Typically this is for a few minutes only after which time it reverts to a passive mode.  So energy 'burn' is kept to a minimum meaning batteries don't need to be changed all season.
RESQSKI is strong and easy to attach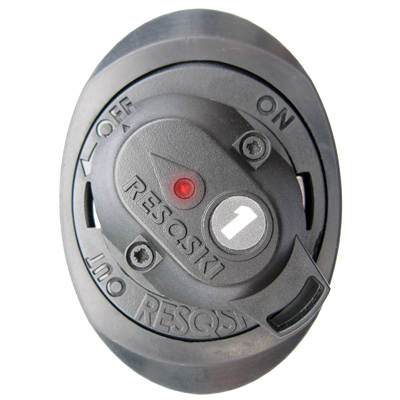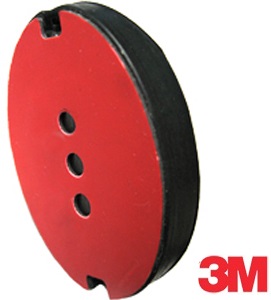 Won't the RESQSKI tag get damaged or break off?
RESQSKI is protected by an innovative rubber boot which has been extensively tested and will protect your tag from the hardest impacts.
For attaching the tags we provide both 3M – VHB stickers with a freeze point of -40 C and screws this will ensure your tag will stay secured to your ski no matter what.
The easy to use handheld finds your lost ski in minutes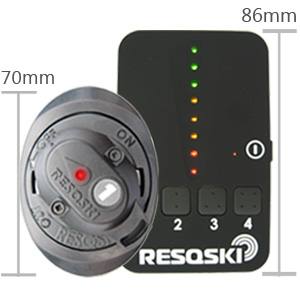 Searching for the ski is simple and if you've used an avalanche transceiver already it operates in a similar way except easier.  Just turn the handheld on (hold down for 2 seconds) and press the number button (say, for ski 1) and release.  Slowly sweep your arm from left to right to pick up the strongest signal from the flashing lights and move in that direction.  When you get near the ski the sonic beeps will get busier until your right on top of the ski.
Importantly all you have to do at the start of a week's powder skiing is make sure your tags are switched on and the handheld is in your backpack or pocket.  Then forget about it knowing you can ski with complete peace of mind.

Roy Henderson
BASI Mountain Safety Advisor
"It's not a gimmick, they really work and are discreet enough you don't notice you have them on.
The RESQSKI does work, I've not lost a ski yet this season but having tested them I can tell you they work"

Patrick Fux
Swiss powder expert and editor Powdermania.com
"They did it! Ever since I had to search my own ski in waist deep powder while my friends enjoyed another run in untracked deep powder I always wanted to have something on my skis to allow searching them when lost."

Charles de lastic
I tried the RESQSKI by burying it 2 foot down in deep snow on the first day of my holiday and it worked like a charm. Knowing I can find my ski after a fall has meant I am happier to go far off piste to find good untracked snow and also ski much steeper more difficult runs with confidence which made for a great holiday in Les Arcs in January. Due to great snow we were off piste most of the week and was confident knowing my RESQSKI was turned on.
This is without doubt one of the best inventions for powder skiers around and certainly worth the money. Certainly, I would now hestitate to ski off piste with people who did not have them fitted as I do not want to waste rare good powder days hunting for skis anymore."

Rory Holburn
"Excellent product! Used all of 2012-2013 season – God send! Hours saved and real sense of freedom."

At just £88 for a full set of skis you are now ready to ski knowing you'll never have to worry about losing a ski again.  A small price to pay for protecting your prized powder skis.
Order Now For Just £88